In the Beginning
when the Garden City of Pinelands was launched, from the Church's point of view it was a "no man's land."
The few Catholics in Pinelands were considered to be in the parish of Maitland. As the area developed and numbers increased, it was attached to Mowbray. In 1946, Pinelands became an independent parish.
This independence had a "Gilbert and Sullivan" effect about it. The new parish had no church of its own.
Baptisms, marriages and funerals took place in St Patrick's, Mowbray. On Sundays, Holy Mass was celebrated in the Pinelands Civic Hall.
In 1949, the foundation stone of the Church of Christ the King was solemnly laid.
This was third site which was offered to the Diocese. The first being in Central Square on which the Dutch Reformed Church now stands. The second, in Kings Way, which for some reason was not used.
When a third section of the Garden City was being developed, the present site was offered and accepted. Providentially ideal. It is down New Way and is easily seen from Forest Drive.
When the Church was built, it stood in solitary grandeur at the top of New Way, an "island unto itself." The parish priest continued as Chaplain to what at that time was known as St. Joseph's Sanatorium.
Some years later, the name was changed to St Vincent Pallotti Hospital when the founder of the Sisters' Congregation was canonised.
The Hall and classroom enabled the parish to launch a school for children in Sub A, B and Standard 1. The Pallottine Sisters wished to take charge of the school but being nursing sisters, they arranged for one of their sisters to go from Germany and train in England. Sister Vera returned to take up the reigns of the school. The school served as a feeder school for Springfield. A school bus transported the children for years from Pinelands to Springfield. Later, the Dominican Sisters took over the running of the school until they were forced to close almost all their schools due to lack of resources.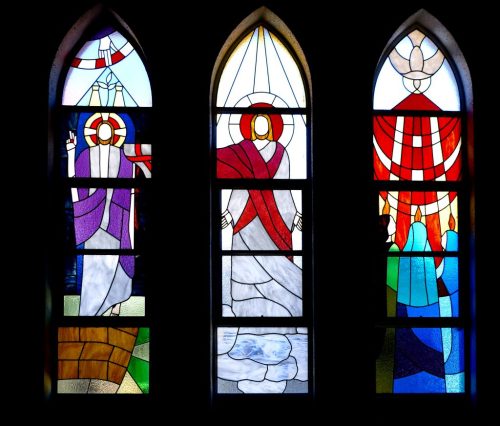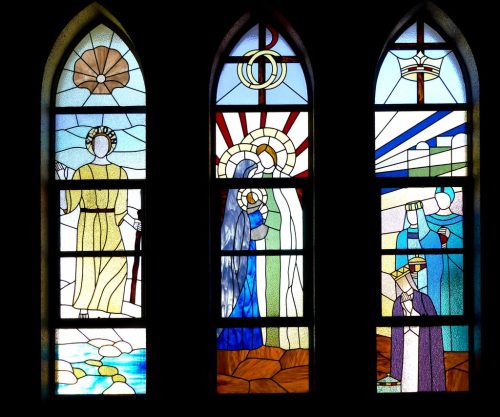 The parish priest continued to live in the cottage in the grounds of the hospital. On Thursday, a "housewives" Mass was celebrated in the parish church. At the weekend the church was used in the normal way. On other days, the church was opened and closed by a parishioner on his way to and from work. Mr McCoy did this until the Presbytery was ready

In July 1999, Catherine Davey was commissioned to paint the front of the Choir Loft.
The triptych is of the Last Supper with the left-hand painting being Jesus serving Man, (The washing of the feet) and the right-hand painting depicts Jesus serving God, (praying in the Garden of Gethsemane). 
Priests who Served at the Parish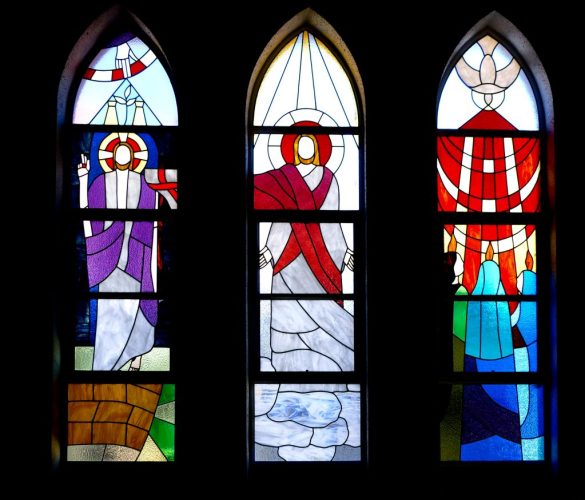 Fr. Luke O'Reilly (1928-1929) (Parish Priest of Maitland)
Msgr. John O'Rourke (1929-1935) (Parish Priest of Mowbray)
Fr. Edward Graham (1936) (Parish Priest of Mowbray)
Fr. Owen McCann (1939-1940) (Assistant priest at Mowbray)
Fr. Edward (Ned) Kiernan (1944 – 1953)
Fr. Frank McManus 1946 (July-December) (Supply Priest)
Fr. Michael Hulgraine (1950)
Fr. Brian Power (1954 – 1960)
Fr. Anthony Seba (1960 – 1988)
Fr. Paddy Thornton    (1988 – 1995)
Fr. Rory Murphy (1995 – 1996)
Fr. Rodney Hall (1996 – 1997)
Fr. Jurgens Bezuidenhout (1997 – 1998)
Msgr. Clifford Stokes (1997 – 1999)
Fr. Keith Lambert (1998 – 2000)
Fr. Terry Gorman (1999)
Fr. Martin Daly SDB
Fr. Keith Lambert SJ (1999-2000)
Fr Douglas Wiseman (2000 – 2014)
Msgr. Andrew Ivo Borello      (2014 – 2020)
Fr. Christu Amal Raj SAC (2019 -Present)